The Night Manager Web Series (2023) Watch Online, Cast, Language, Release Date, All Episodes, Real Names, and more.
The Night Manager is a Suspense Crime-Drama web series, and the story of this web series is related to the life of ex-serviceman Shaan Sengupta. He hatches a plan to infiltrate the inner circle of an arms dealer. Now the thing to be seen will be whether he will be able to carry out his plan? If you want to watch this Suspense Crime-Drama web series, then you can watch it on Disney+ Hotstar.
The series stars Anil Kapoor, Aditya Roy Kapur, Sobhita Dhulipala, Tillotama Shome and Rukhsar Rehman in lead roles. This series is directed by Sandeep Modi and Priyanka Ghose.
the night manager hindi, download, Season 2, Disney+Hotstar
Read Also
The Night Manager – Web Series Overview
Language
Hindi
Genre
Suspense, Crime, Drama, Web Series
Release Date
16 February 2023 – 29 June 2023
Director
Sandeep Modi, Priyanka Ghose
Production Companies
Banijay Asia, The Ink Factory
Producers
Deepak Dhar
Rishi Negi
Rajesh Chadha
Writer
David Farr
Based on
The Night Manager (novel)
by John le Carré
Distributor
Disney+ Hotstar
Seasons & Episodes
Season 1 (Episode 7)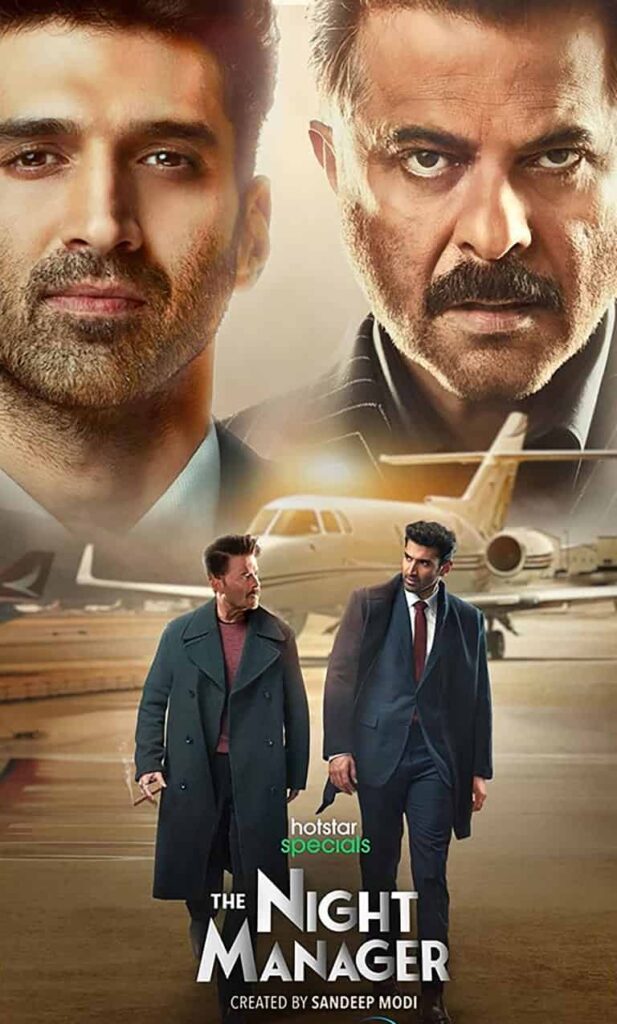 The Night Manager – All Episodes
| Episode No. | Episode Name | Director | Release Date |
| --- | --- | --- | --- |
| Episode 1 | Zakhm | Sandeep Modi & Priyanka Ghose | 16 February 2023 |
| Episode 2 | Mission | Sandeep Modi & Priyanka Ghose | 16 February 2023 |
| Episode 3 | Mehmaan | Sandeep Modi & Priyanka Ghose | 16 February 2023 |
| Episode 4 | Sweetly-waala | Sandeep Modi & Priyanka Ghose | 16 February 2023 |
| Episode 5 | Abhimanyu | Sandeep Modi & Priyanka Ghose | 29 June 2023 |
| Episode 6 | Magic Trick | Sandeep Modi & Priyanka Ghose | 29 June 2023 |
| Episode 7 | Imarti | Sandeep Modi & Priyanka Ghose | 29 June 2023 |
Star & Cast
| Name (Actors & Actresses) | Roles |
| --- | --- |
| Anil Kapoor | Shailendra 'Shelly' Rungta |
| Aditya Roy Kapur | Shantanu 'Shaan' Sengupta |
| Sobhita Dhulipala | Kaveri 'K' Dixit, Shailendra's girlfriend |
| Tillotama Shome | Lipika Saikia Rao, RAW Officer |
| Ravi Behl | Jaiveer 'Jayu' Singh, Shelly's associate |
| Rukhsar Rehman | Mrinal Singh, Jaiveer's wife |
| Saswata Chatterjee | Brij Pal alias BJ, Shelly's right-hand man |
| Varun Shashi Rao | Naren Rao |
| Anand Vikas Potdukhe | Sarang Potdukhe |
| Bagavathi Perumal | D'Silva, Lipika's contact in Sri Lanka |
| Prashant Narayanan | ISIS Man |
| Jagdish Rajpurohit | Nasser Loshkar, Shaan's superior in Dhaka |
| Salim Siddiqui | P. Tiwari, Policeman |
| Resh Lamba | Freddie Rehman, Shelly's associate and owner of the star hotel in Dhaka |
| Arista Mehta | Safina Kidwai Rehman, Freddie's wife |
| Shrenik Arora | Farzana Kidwai, Safina's mother |
| Shrenik Arora | Taha Rungta, Shelly's son |
| Joy Sengupta | Danish Khan, Lipika's superior in the RAW |
| Vikram Kapadia | Mittal alias "Indradhanush", Lipika and Danish' superior in the RAW |
| Akashdeep Sabir | JV |
| Owais Bhatt | – |
| Bhupendra Singh Negi | – |
| Vipul Deshpande | Bangladesh Police Officer |
Read Also